We use cookies on this website.  By using this site, you agree that we may store and access cookies on your device.  Close notice
NAS wins Public Sector category award at the Sustainable Energy Authority of Ireland's (SEAI) Awards 2017
The National Ambulance Service is delighted to have been announced as the winner in the Public Service category of the Sustainable Energy Authority of Ireland's (SEAI) Energy Awards 2017 and is delighted to be recognised for its work in greening the ambulance fleet as well as receiving the public sector award. These awards are designed to encourage and reward excellence in energy management. Thirty organisations across eight categories made it to the final stage of the awards, and the winners in each category were announced on Thursday 9 November  
The National Ambulance Service (NAS) operates a fleet of 500 vehicles from over 100 locations across the country. The vehicles travel in excess of 20 million kilometres per annum (total kms for the fleet in one year). 
The NAS is committed to reducing, in so far as it practicable, its carbon footprint by improving the effectiveness and efficiency of its fleet and its major equipment components.  As such the NAS has introduced significant change to its vehicle build specification over recent years to ensure it could meet the challenges of a changing environment. Green technology is now an embedded feature on all new vehicles. 
Martin Dunne, Director of the National Ambulance Service said "this is a great achievement for all our staff within the National Ambulance Service. These new vehicles will greatly reduce our carbon footprint as well as providing enhanced care to our patients. We are delighted to have been nominated for a sustainability award and we congratulate all those who have gotten to the final stage of the awards. A number of these new vehicles are already in service. The public can see these vehicles in Dublin and throughout the country as they are rolled out to replace existing NAS fleet. They have solar panels on each vehicle as well as a number of other energy efficient features. This has all been made possible through funding form the HSE National Service Planning process." 
National Ambulance Service vehicles have smart systems installed to manager power usage, ECO technology installed to manage the amount of time that the vehicle idles, voice technology messaging to enhance safety and efficiency of vehicles as well as the use of solar light panelling on all new vehicles.
Pat Grant, Chief Ambulance Officer of the National Ambulance Service, Fleet and Equipment Department said ; "technology is a vital tool in relation to the ambulance vehicle and the ambulance service of the future. Technology will improve the performance of the service that we can offer to our patients and clients and allow human resources to be targeted at what they are trained for – dealing with patients."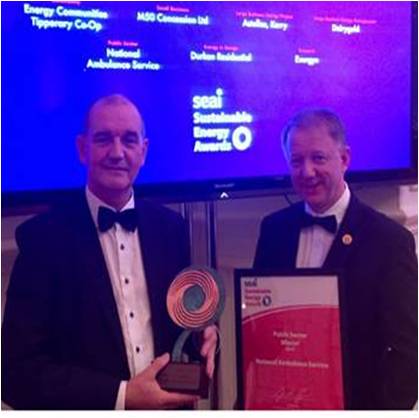 Pictured receiving the award on behalf of the NAS are Pat Grant, Chief Ambulance Officer - Fleet and Equipment
and Martin Dunne, Director NAS